Hello friends! Hope your week is off to a great start! We have been having wonderful Fall days... blustery, rainy and cool! I just L-O-V-E this weather! We are just headed out the door to Target to buy Halloween lights to decorate Robbie's Radio Flyer wagon for Halloween night!
He is very excited about trick-or-treating this year!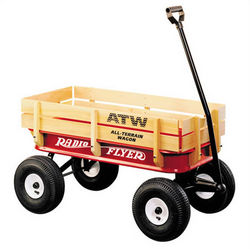 Thanks Gigi and Bompa Ray for surprising us with this wonderful wagon!
I don't know who is more excited, Robbie or Mommy ?!


I meant to post this on Sunday, but I am just getting around to taking my photo this morning.
Let's see, on Sunday I was officially 17 weeks into my pregnancy with my little Womb Mates, ( get it roommates ? ) :) . On Friday I had another ultrasound and doctor appointment. I was hoping to find out just who we can expect to meet in about 5 months, boys or girls or one of each! Well of course, these little jumping beans wouldn't hold still and the doctor wasn't able to tell me for sure what each of them are... so we wait another few weeks until my November 12th 20 week ultrasound.
We do however have names!!! Yay both boy and girl names, 8 names total, 4 boy names and 4 girl names, a first and a middle for each! can't wait until Nov 12th to share our names!!
Please keep our little ones in your prayers! Everything looked great on the ultrasound, they both had strong heartbeats and the most adorable little profiles! I am defiantly in love!
Pregnancy Highlights This Week
Size of Babies:
The Christensen twins are
each the size of an Onion.
In fact, last week the doctor told me each baby weighed in at about 6 oz each! That is pretty good concidering most babies at this stage are around 5 oz each.
The babies are around 5 inches long.
My doctor joked that each baby is about the size of a baked potato!
Babies Development This Week:
T
his week the babies skeletons a
re changing
from soft cartilage to bone, and the umbilical cord — their lifeline to the placenta — is growing stronger and thicker.
Maternity Clothes:
Love my maternity leggings from Motherhood Maternity!!!!
Gender: Not sure just yet! We can't wait to find out who God is blessing us with! We should know on November 12th, just 14 more days!!!

Movement: I can feel little butterfly movements from both of these little cuties, most often at night. I first started feeling them move around 10 weeks. I can feel someone on the left is very active almost ALWAYS and the little one on my right is active, but polite about his or her activity! :)
Sleep: I sleep great, but I wake-up several times to go to the bathroom throughout the night.

What I miss: I really wish I could have a big hot dog and a large Coke oh and the Deli meet cravings are back!!!

Cravings: This week I'm craving warm and cozy Fall foods!

Symptoms: I feel a fullness in my tummy in the evenings. Lots of heaviness in the uterus and lower back pain at the end of the day.

Best Moment this week: Seeing my little twins profiles during my doctor appointment!
Getting Ready For Our
Two Peas In A Pod
We have the twins nursery all painted and ready to go. We have chosen a pale light green to go along with our two peas in a pod nursery theme.
I am slightly obsessed with this color, which is actually called Peas in a Pod!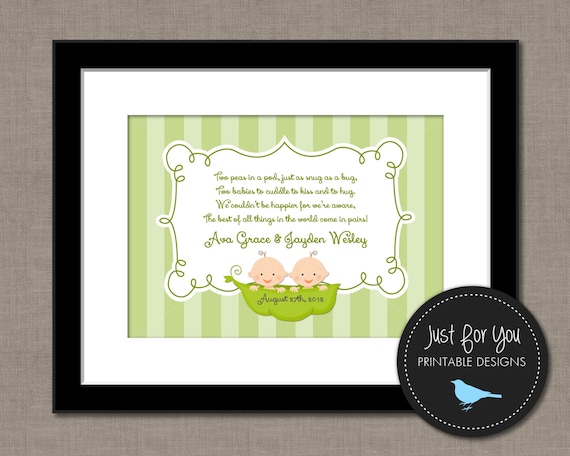 I love the above little saying to put in their nursery.
Oh Gigi.... I have a project for you!
Oh and Gigi, when can we start making this???
Time to crochet!!
I'm having fun collecting nursery ideas for these little blessings.
I mentioned earlier that our weather has been very Fallish (again, not sure if this is word, but I'm using it as one today!). We have had spotty periods of rain throughout the day with dark threatening rain clouds and wind. It just feels like a soup kind of a day! My Mom and I love to watch The Pioneer Woman and Trisha Yearwood's show, Trisha's Southern Kitchen. Today, Trisha made this amazing looking Chicken Tortilla Soup and as soon as I finish this post I am running out to the grocery store to gather the ingredients to make this soup tonight!
1 medium onion, finely chopped
2 tablespoons all-purpose flour
Three 14-ounce cans chicken broth
One 10.75-ounce can cream of chicken soup
1 cup prepared salsa, mild or spicy
4 boneless, skinless chicken breasts, boiled, drained and shredded
One 15-ounce can black beans, drained
One 15-ounce can kidney beans, drained
One 15-ounce can whole kernel corn, drained
One 1.27-ounce packet fajita seasoning
One 16-ounce bag tortilla chips
8 ounces Monterey Jack, grated
8 ounces sharp Cheddar, grated
Melt the butter in a large pot over medium heat. Add the garlic and the onion and saute until
flour and stir well, cooking for 1 minute more. Add the broth and the half-and-half. Stir in the
salsa, chicken, beans, corn, cumin and fajita seasoning. Continue to simmer over low heat for
15 minutes.
Crumble the tortilla chips into individual bowls and top with a ladle of soup. Sprinkle each
serving with cheese and add a
Have a great day and stay cozy!
( I taught Robbie all about the word cozy this week, what it means and how to use it) . :)