What do chocolate mustaches, Tonka trucks and hard hats have to do with me, you might ask? Well, these days the above items quite often seem to be making their way into my vocabulary and everyday life.
Ah, so goes the life of a mama with a young little boy! Today was quite a busy one for my little side-kick and me.
We spent the morning at Story Time at our local library singing songs about The Muffin Man and Thumbkin.
Later, in the early afternoon, Robbie had a 15 month Well-Baby check-up at the doctor. I know he is now 16 months old, but mommy was running a little behind on setting-up this appointment, too much on my plate these days!!
Somebody was not too happy to be getting his shots today. :(
Robbie was such a strong and brave little Marine at the doctors office. So on our way home Gigi and I stopped off at Toys R' Us and bought him this . . .
A little car!
Robbie was so excited that the whole way home all he kept saying was, "car Mommy, car" !! When we arrived home, Gampa and Gigi put the car together.
My little man wasn't feeling so great after a day of shots!
So, I indulged Robbie and gave him a fudge pop!
Hence, the chocolate mustache!! Well, I guess it's really more of a chocolate goatee! :)
Even Gigi's cat, Little bear wanted in on the action!

At the end of the day we all enjoyed a nice walk trying out Robbie's car!
I just love my little turkey so much! Being the Mom of a boy is the most thrilling job, full of new and exciting experiences each day! :)
Playing Peek-a-Boo with Gigi wearing his new Bob The Builder Hat!

And Now it's time for a fall recipe! Today's recipe is all about the Baked Apple!! Yummy!!! One of my favorite healthy treats! I could literally go on and on and write about 100 posts on things to do with apples! In fact, we are planning an apple picking trip sometime in early October, where I will have a few more apple recipes and fun ideas to make your fall even more fabulous!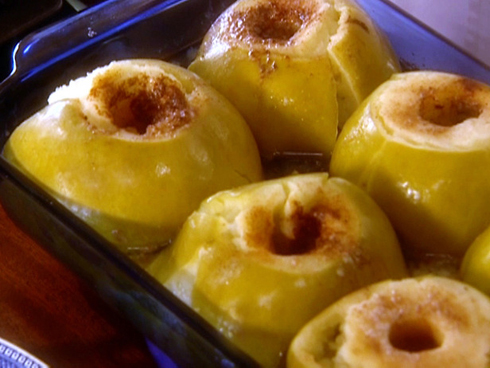 Not only will you love the taste of these baked little treats, but they will make your home smell cozy and warm as if it reached out and gave you a great big hug!
Ingredients:
1 teaspoon ground cinnamon
1/4 teaspoon ground nutmeg
1/2 cup sugar ( I prefer brown sugar)
6 same-size Granny Smith apples
2 tablespoons butter, cut into 6 teaspoon-size pieces
1 cup apple juice
6 sprigs fresh mint optional
sometimes I even put a dollop of whipped cream,it tastes like a little mini apple pie! :)
Directions:
Preheat oven to 325 degrees F. Combine cinnamon, nutmeg, and sugar in a small bowl. Set aside.
Core apples, making sure not to puncture the bottom of the apples so that the juices will remain. Remove skin from 1/2-inch around top of apples at the opening. Fill each cavity with the cinnamon-sugar mixture. Top each apple with a teaspoon of butter. Place apples in casserole dish and pour apple juice around them. Cover pan with aluminum foil and bake for approximately 45 minutes to 1 hour. Remove from heat, garnish with fresh mint, and serve.