Katie and me in my Kitchen
Good morning friends!
Today, I am asking all of my readers to please share their favorite casserole with us! I LOVE casseroles!!! I think because they are such a comfort food. Everyone loves to come home to the smell of a warm, delicious casserole baking in the oven!
Well, today I am sharing one of my all time favorite casseroles which I learned how to make from my good friend ( and fellow Marine wife) Katie!
During my year living in
Quantico
Virginia ( about 30 miles from The Nation's Capitol) I made a dear, sweet friend who I cherish named Katie. While our husbands were away in the field for training all week playing Marine "the girls" ( Marine wives) would all get together for dinner at night. One night Katie made this casserole with a pitcher of sweet tea , and I thought I was in heaven! Katie calls this casserole "Chicken Ritz". I would often refer to it as "Katie's
Puttin
' On The Ritz Chicken"
I begged Katie for the recipe and she was kind enough to share. I changed it a little by adding the cheese ingredient.
Katie's

Puttin

' On The Ritz Chicken Casserole

Prep Time:

20 minutes
Cook time:

20 minutes ( Bake at 350 for about 20 min)
Serves:
6
Ingredients:

4 or 5 boneless chicken breast, or 4 bone-in chicken breasts; boiled
2 cans of cream of chicken soup
3/4 of a cup of sour cream
2 sleeve of Ritz crackers, crushed shopping list
Shredded cheese of your choice ( I used cheddar)
butter
salt and pepper
Directions:

Cook chicken breast on top of stove covered with a little water until done. (You could also use boiled chicken,canned chicken, or even a rotisserie chicken if you like) Shred Chicken.
Take a 9x13 baking dish. First cover the bottom of the dish with whole Ritz crackers.
Then in a mixing bowl combine cream of chicken soup, sour cream, shredded chicken, cheese and salt and pepper to taste.
Pour the mixture over the Ritz Crackers in the baking dish.
Finally top the casserole with 1 sleeve of crushed Ritz crackers. ( Just crumble them in your hand.)
Add several pats of butter to the top
Salt and Pepper
Bake for about 25 minutes or until bubbly at 350 degrees.
Enjoy! :)
Please link up with me and share your all time favorite casseroles!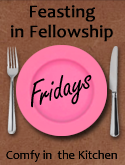 Blessings,
Sarah