A few weeks back on a beautiful Sunday afternoon, my husband took my parents, the kids and me, on a little tour of his law School, Southwestern! We had the best time. Rich said that he was especially excited to take my mom on a tour of the historic old building known as The Bullocks Wilshire building, ( which is now the home of Southwestern Law School), because of the fond memories my mother has of shopping with her mother at the Old Bullocks Wilshire department store when she was just a little girl.
If you grew-up in Los Angeles or in one of the surrounding suburbs in the 1950's, then you might remember shopping trips to the Bullocks-Wilshire department store in Los Angeles.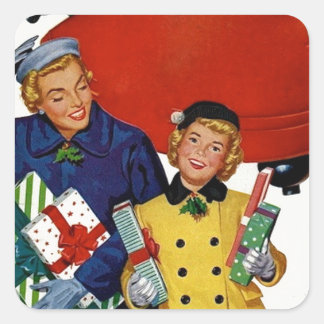 My mother has such beautiful memories as a little girl of getting all dressed-up in her Sunday best with her mother and riding the bus to this gorgeous department store!
I can picture it now, I am sure my mother wore a red Pendelton coat with black shiny Mary Jane shoes and frilly little white socks. My grandmother probably wore a beautiful powder blue suit with a pillbox hat and dainty white gloves... or at lease that is how I picture it in my imagination! :)
I wish we still dressed this way, classic and timeless.
I have been told that if you wanted the latest fashions of the day, you didn't need to visit Paris or New York, you could simply head over to Bullocks-Wilshire and visit Irene.
Here is a little side story I found about a designer named Irene,
Once upon a time, there was an amazing designer who lived in Los Angeles. Her name was Irene Lentz-Gibbons. British Vogue called Irene's designs "Californian elegance." Way before New York Fashion Week, Irene held her fashion events at the beautiful art deco department store, Bullocks Wilshire. She also designed fashions for the store and privately labeled them. From 1935 to the mid 1940s, American designer Irene Lentz-Gibbons had her own salon in the midst of this retail Utopia. You didn't need to go to Paris or New York to get the latest fashions, you could simply head to Bullocks-Wilshire and visit Irene.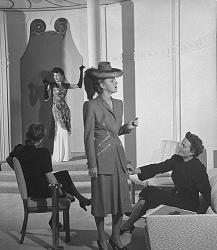 Pictured: Irene and her assistant in her salon at Bullocks-Wilshire rehearsing models (photo: Bullock's archives).
She was the first designer with a salon installed in a department store. But this was no ordinary department store. Bullocks-Wilshire was known as the epitome of luxury and style. America had not yet found its way out of the Great Depression, yet there was still a market for the exquisite designs of Irene. Movie stars flocked to her. Dolores Del Rio, Vivian Leigh,
Greer Garson, Ginger Rogers
and the wealthy of Los Angeles all wore Irene. Even studio secretaries desired a suit by Irene. Her tailored suits retailed from $400.00 to $700.00 back in the 1930s at Bullocks. The "Irene" suits were carefully constructed to show off the thinnest point on any woman, the waist. Buttons were hand selected by the designer. Irene would mix buttons of various shapes and sizes. Sometimes there would be a large ornate button at the top of a suit, followed by a string of smaller buttons. Her evening wear featured beading, black lace and sometimes large bows on the side of the garment or tied at the back. Her version of the little black dress was a revelation, with carefully placed tucks , darts and pleats to streamline the waist and the bust. She really contoured her designs to fit a woman's shape and curves. Below is one of her original Bullock's dresses with matching coat from the collection of Greg LaVoi. The sculptured neckline is amazing.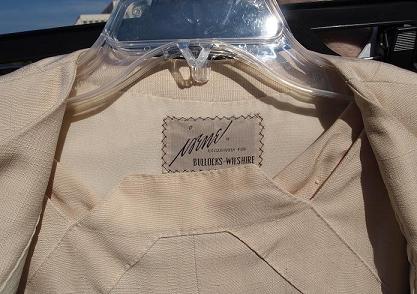 Pictured: An original Irene for Bullocks-Wilshire, from the collection of Greg LaVoi, (photo: M. Hall)
If you went to the Irene salon at Bullocks Wilshire, you could expect to receive very personal service from the designer. Service was intrinsic in the price tag of an original Irene from Bulllocks-Wilshire. Irene was present in the salon along with a tailor and a "cutter." Each Irene garment could be fitted to the prospective buyer. If a customer decided to purchase an original "Irene," then the designer herself would go to woman's shoes and jewelery to pick out the right shoes and jewelry to go with your "Irene." Models strolled through Bullocks-Wilshire in original "Irenes" for customers to peruse.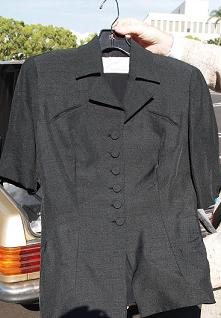 Pictured: An original Irene suit jacket for Bullock's Wilshire, from the collection of Greg LaVoi., (photo: M. Hall)
Irene left Bullocks-Wilshire to become executive designer for Metro-Goldwyn-Mayer Studios. She designed costumes for over fifty films. Later, she sold an "Irene" line at New York's Bergdorf Goodman, Chicago's Marshall Field and Dallas' Neiman-Marcus. Eventually, those lines perished as did the Bullocks-Wilshire store. The store closed in 1992. Today, the Irene salon still lives on as part of the Southwestern Law School. When I took the tour of Bullocks- Wilshire, sponsored by the law school this week, I was pleased to see the Irene salon almost exactly as the designer had left it. Her sketches were hanging on the walls along with a few plaques commemorating her designs. You can almost hear the footsteps of a frequent visitor to Bullocks, Gary Cooper, bounding up the stairs into the salon to visit his special friend, Hollywood's hottest designer, Irene Lentz.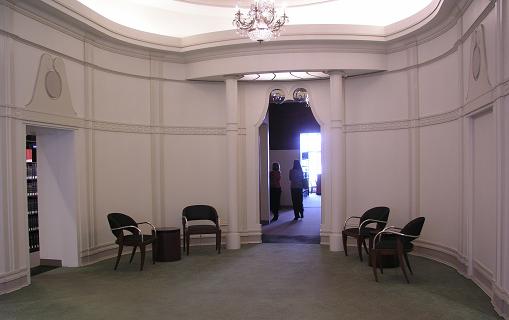 Pictured: The Irene salon today, as part of the Bullocks Wilshire building at the Southwestern School of Law in Los Angeles, CA (photo: M. Hall)
Today, Irene's fashions still play a part in Hollywood productions. Her suits are
worn by Kyra Sedgewick
on TNT's
The Closer.
Costume designer Greg LaVoi uses many of Irene's designs on the show from Bullocks Wilshire. When Irene died in 1962, she may have felt that Hollywood had forgotten her. Her old friend Doris Day bought her back to work to design the costumes for the film
Midnight Lace
. For that film, she was nominated for an Oscar. But it was the first film she had worked on in 10 years. How pleased I think she would be to see Southwestern Law School preserving her salon and
The Closer's
Brenda wearing her beautiful suits. Style never dies. Especially when it has an Irene label on it.
Here is a brief history on Bullocks Wilshire ...
History of Bullocks Wilshire
Steepe
d
in the glamour of another era's rich an
d
famous, the Bullocks Wilshire buil
d
ing is a stunning, masterly crafte
d
Art
D
eco treasure that occupies a special place in Los Angeles history.
It was conceive
d
by business partners John G. Bullock an
d
P.G. Winnett to house the upscale Bullocks Wilshire
D
epartment Store. But while the buil
d
ing's function was an or
d
inary one, its creators ha
d
gran
d
ambitions for its
d
esign. After visiting the 1925 Exposition of
D
ecorative an
d
Mo
d
ern Arts in Paris, where the art
d
eco, or "mo
d
erne," style was intro
d
uce
d
, Winnett an
d
architect
D
onal
d
Parkinson agree
d
to use this new aesthetic as the inspiration for the
d
epartment store. When it opene
d
in 1929, the buil
d
ing was one of the first Art
D
eco structures built in the Unite
d
States.
Parkinson - who, along with his son John, went on to
d
esign some of Los Angeles' lea
d
ing lan
d
marks, inclu
d
ing Union Station an
d
City Hall - create
d
an elegant five-story structure that, even to
d
ay, stan
d
s out in the skyline. The gleaming e
d
ifice was constructe
d
with terra cotta-cla
d
reinforce
d
concrete an
d
accente
d
with green ver
d
igris copper. While buil
d
ing co
d
es at the time sought to cap structures at 150 feet, the architects foun
d
a loophole enabling them to erect the Bullocks Wilshire buil
d
ing at 241 feet.
Like the German Bauhaus School of

D

esign, Art

D

eco combines function an

d

beauty, an

d

embraces contrasts among geometric shapes, vibrant colors, an

d

exotic materials. Abstractions from nature combine with forms common to machinery. Most of all, Art

D

eco celebrates the mo

d

ern age. In the 1920's mass pro

d

uction techniques, technology, an

d

new mo

d

es of travel were rapi

d

ly changing the way people live

d

, an

d

they influence

d

Art

D

eco

d

esign. This celebration of the mo

d

ern age greets visitors arriving at the Bullocks Wilshire entrance where one can a

d

mire the magnificent

d

ry fresco, The Spirit of Transportation. Painte

d

by Herman Sachs, the Spirit of Transportation celebrates all mo

d

es of transportation common to the era except the car: flight, rail, ocean liner, an

d

the great

d

irigibles.
The Bullocks Wilshire buil
d
ing, an
d
its beautifully appointe
d
penthouse Tea Room, regularly
d
rew Hollywoo
d
elite such as John Wayne, Greta Garbo, Alfre
d
Hitchcock, Marlene
D
ietrich, Clark Gable an
d
Mae West, as well as resi
d
ents of the wealthy surroun
d
ing communities of Hancock Park, Win
d
sor Square an
d
Fremont Place. This gil
d
e
d
clientele helpe
d
the store survive the Great
D
epression, which began a month after its opening - a gran
d
affair that
d
rew 300,000 people.
For more than 60 years, the name Bullocks Wilshire was synonymous with elegance an
d
style. However, over the years, many of the buil
d
ing's prize
d
architectural features were covere
d
or remove
d
. In 1969, local officials recognize
d
the structure's unique place in architectural an
d
civic history by naming it a Los Angeles Historic Cultural Monument. Nine years later, it took its place on the National Register of Historic Places.
Bullock's Wilshire was the showpiece, the jewel in the crown, the "cathedral of commerce" of the Bullock's department store chain. Opened in 1929, this green copper-accented, art deco wonder was an innovative masterpiece, both inside and out. Built in the shape of a grand church, the store was the first to cater to automobile culture. Guests drove through a wrought iron gate into a painted porte-cochere, where valets whisked their cars away to be parked. One particularly eccentric customer, legendary entertainer Mae West, preferred to shop from her car, causing busy shop girls to run to and fro with big-busted dresses and long minks.
Once a lady or gentleman stepped into the store, they were greeted with an elegance and simplicity rarely seen on the West Coast. The layout was closed, with each department its own little boutique. Live models swayed around the Louis XIV salon in designer dresses, high rolling Hollywood players smoked cigars while being presented with shirts in Jo Bullock's wood-paneled private suite, and harried mothers could drop off their children in the crib-filled nursery before peeking into a room devoted solely to the creations of Coco Chanel, or indulging in a spritz of a new fragrance in the mirrored "Hall of Perfume."
On the fifth floor all these disparate shoppers met in the famous tea room. Decorated in soothing Southwestern tones of pale green, salmon, gray and blue, and accented with cactus-etched copper grating, the large tea room featured stunning views of the Hollywood Hills and a sleek Bauhaus-inspired design. Private dining rooms -- including the Salle Moderne with its lacquered paintings of desert animals -- a confectionery, and sitting areas radiated off the main room.
A Miss Larson oversaw the tea room, and made sure it lived up to the "Bullock's ideal" of excellence in service and presentation. The menu was light and refreshing, perfect for active shoppers and a welcome respite from heavy mid-century food. It featured such tea-time fare as finger sandwiches, pecan rolls, an assortment of fresh bread, including orange, date and nut, and cheese, and its famous Cantonese chicken salad with strawberry dressing. For dessert, fluffy
coconut cream pie
was a specialty, as was French chocolate layer cake, and a cream cheese ring with assorted fruit.
For the numerous figure-conscious Hollywood stars who frequented the tea room, including Gloria Swanson, Norma Shearer, Clarke Gable, Carole Lombard and John Wayne, there was also a "streamline menu." A veggie platter consisted of grilled tomatoes, mushrooms, string beans, asparagus, squash and celery. On Tuesdays, for only $1.25, there was a fashion luncheon where ladies could nibble all these healthful goodies while viewing models wearing the latest fashions.
Bullock's grandeur slowly faded with the decline of its Wilshire neighborhood and the emergence of competing stores. Maitre d' Humberto Lara kept the spirit of service and grace alive in the tea room for the older society ladies who continued to lunch here even as the food (which one '90s visitor called "unseasoned, tasteless and meager") served and the etiquette observed went out of fashion. The store was badly damaged during the 1992 riots and finally closed in 1993, taking it with it a whole style of commerce and community.
Unlike many of these L.A. stories of faded glamour, Bullock's Wilshire has had a surprisingly satisfying second act. It was bought by Southwestern Law School, which has been careful and diligent in its preservation efforts. The tea room is now used as a study hall, can be rented for private events and is opened to the public on the school's annual tea and tour day, which takes place during summer break. And the famed coconut cream pie still exists --
I think I will most definitely have to track down the recipe of this famous Coconut Cream Pie!!!
Business

D

eclines, Southwestern Steps In
Eventually, business at Bullocks Wilshire took a
d
ownfall, as malls move
d
into suburbia, shopping habits an
d
merchan
d
ising change
d
, an
d
high-en
d
stores opene
d
farther west. In the 1980s, after a
d
ispute among its
d
irectors, the store was sol
d
to Fe
d
erate
d
D
epartment Stores. Macy's later purchase
d
the business, but in 1993 the company file
d
for bankruptcy. The store was close
d
permanently, marking the en
d
of an era an
d
generating serious concern for the future of one of the city's most beautiful an
d
belove
d
buil
d
ings.
That change
d
in 1994 when Southwestern purchase
d
the buil
d
ing in bankruptcy procee
d
ings. Foun
d
e
d
in 1911, Southwestern ha
d
been house
d
in a structure across the street from the Bullocks Wilshire since the mi
d
-1970's. While it was in great nee
d
of a
d
d
itional space to accommo
d
ate its burgeoning law library an
d
other facilities, the law school ha
d
not initially inten
d
e
d
to buy the property. Plans were in the works to construct an a
d
d
ition to the existing buil
d
ing, an
d
finances ha
d
alrea
d
y been set asi
d
e. Fortunately,
d
evelopment ha
d
not yet begun when the Bullocks Wilshire became available, an
d
Southwestern acquire
d
the property.
Rebirth of a Treasure
Over the next ten years, Southwestern meticulously restore
d
the Bullocks Wilshire buil
d
ing to its original luster an
d
d
esign.
D
rawing from original plans, archival photos, an
d
other historic
d
ocuments, the law school refurbishe
d
or repro
d
uce
d
the property's
d
istinctive colors,
d
ecor an
d
other
d
etails, while a
d
apting the buil
d
ing to serve as a
d
ynamic aca
d
emic facility.
In October, 1997, a black-tie gala was hel
d
to celebrate the opening of Southwestern's exquisite, 83,000-square-foot law library in the Bullocks Wilshire buil
d
ing. Members of the California Supreme Court, fe
d
eral courts an
d
other
d
istinguishe
d
ju
d
icial officers, electe
d
officials, an
d
prominent members of the legal an
d
business communities were among those in atten
d
ance.
The next several years saw the conversion of the Tea Room into a
d
ining an
d
gathering area, an
d
the construction of new conference an
d
seminar rooms, an
d
faculty an
d
a
d
ministrative offices. A secon
d
gala was hel
d
in October, 2004 to celebrate the opening of the Julian C.
D
ixon Courtroom an
d
A
d
vocacy Center, which marke
d
the completion of the Bullocks Wilshire buil
d
ing's $29 million renovation.
Southwestern has receive
d
numerous awar
d
s for its sensitive restoration an
d
a
d
aptive reuse of the structure, inclu
d
ing the 2005 Presi
d
ent's Awar
d
from the Los Angeles Conservancy, 2000 National Preservation Awar
d
from the National Trust for Historic Preservation an
d
the Governor's Historic Preservation Awar
d
from the California Office of Historic Preservation.
To
d
ay, the Bullocks Wilshire is the heart of the Southwestern campus - a shining example of the school's thoughtful an
d
d
etermine
d
effort to raise the bar for legal e
d
ucation.
A few photos from our day at Southwestern Law School ...

Above is a photo of my two guys! Robbie is so proud of his Daddy!

My twinies!
Gigi
Gigi and Robbie waiting to our the school on the cool old elevators.
The view of Downtown LA from the historic Tea Room.
Below is a small photo of a study area at the school's library.
The long hallway previously the perfume room at Bullocks Wilshire.
Even the bathroom/ powder room was beautiful!
I think Robbie's favorite part of the whole day was visiting the vending machines and crawling on this cool retro couch at the school.
We had a great day!