This is exactly how our house feel right now.
It is 8:00 and all of our babies are sound asleep! I looked over at Rich and said; "I can't believe it, we did it!" High five for us! Well, I am going to enjoy my evening, at least the next two hours of my evening. The babies wake up for a late night feeding at 10:00 and have been sleeping straight on through until the wee hours of the morning of 3:30 or 4:00 a.m. I nurse them both and top them off with a bottle if necessary and then cuddle them in bed until about 6:00 am/ 6:30. They just turned three months old and for now I am feeling pretty good with this schedule and ah yes, more sleep for mommy!
So what have we been up to this weekend? Well... this morning my Mom and I went to a plant sale. The man who was selling the plants had the most beautifully landscaped front yard. I felt that we really stumbled upon a gem in this plant sale. I bought these two beautiful flower baskets for just $5.00 a piece!
This is our weekend project... We are totally renovating our pantry space in our kitchen. I am so excited about this because now I can re-organize this space in the exact way I want and really get the most use out of the space we have. I have been sanding and repainting the shelves. Rich has had the messy job of scraping off old paint and sanding the inside of the pantry. My Mom has sanded and re painted the doors of the pantry with chalkboard paint. It has been a family effort, that's for sure!
Here are a few pantry ideas I found on Pinterest
I am really loving the chalkboard painted pantry doors! :)
Rich and I have been watching a few documentaries off of Netflix lately! In fact, it has kind of become our new favorite thing! So far this week we have enjoyed the following documentaries;
So far, my favorites...
The Plot:
TINY is a documentary about home, and how we find it.
The film follows one couple's attempt to build a "tiny house" from scratch, and profiles other families who have downsized their lives into homes smaller than the average parking space.
Through homes stripped down to their essentials, the film raises questions about good design, the nature of home, and the changing American Dream.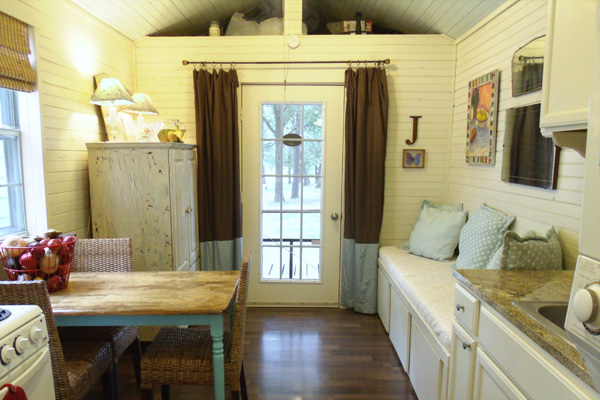 "Man can better set up in a small house than in a huge castle."
There is something so whimsical, fundamental and simple about the trend and concept of tiny living. It's refreshing getting back to basics. Really cool!
The Plot :
Netflix recently released a documentary about Chipotle as part of their Inside documentary series. And though it's short (only twenty-one minutes) it's packed with fun facts, about everything from the design of Chipotle's chairs to where they buy their food to how they train their workers. Pretty cool that Chipotle is all organic! Tastes good and is good for you!
The Plot:
Four men will do anything to pass the most difficult test you've NEVER heard of...
SOMM takes the viewer on a humorous, emotional and illuminating look into a mysterious world – the Court of Master Sommeliers and the massively intimidating Master Sommelier Exam. The Court of Master Sommeliers is one of the world's most prestigious, secretive, and exclusive organizations. Since its inception almost 40 years ago, less than 200 candidates have reached the exalted Master level. The exam covers literally every nuance of the world of wine, spirits and cigars.

Those who have passed have put at risk their personal lives, their well- being, and often their sanity to pull it off. Shrouded in secrecy, access to the Court Of Master Sommeliers has always been strictly regulated and cameras have never been allowed anywhere near the exam, until now.

How much do you think you know about wine? SOMM will make you think again.
Pinterest Projects Knit & Crochet
My sweet friend Liz sent me this fun shirt pattern on Pinterest. Love it!
I am going to settle in with a nice warm cup of tea and work on my knitting project.
Have a happy Saturday friends. :)
Blessings,