On Wednesday I did the ultimate Mommy Uh-Oh!!!!
I was straightening my hair with my Flat Iron. I had it laying up high on the bathroom counter. Robbie ran in and before I could grab his little hand away, he had grabbed the flat iron with his little hand! He screamed "Hot Mama" !!! I screamed an rushed his hand under cold water for 20 min. We then spent the afternoon at the doctors office. Thankfully he just has these four finger blisters on the little pad and tip of his four fingers on his right hand. Boy oh boy does Mommy feel terrible!
So you can imagine after all this, my little man needed to have some fun this week!
Robbie has been having a great summer filled with fun, family,friends and play dates!!
Yesterday, my little man had a blast feeding ducks at the park lake with my good friend Aimee and her two adorable little ones!
I'm sure you have all heard the following nursery rhyme song .
It just so happens that right now, this is one of Mr. Robert's favorite songs! He loves to say "Duck" and make the quack sound!
Here are some photos from Robbie's duck feeding experience!
The beautiful lake at the park.
Ducks!!

 Robbie wasn't scared of the ducks for one minute!!!He loved feeding them bread!
I think this duck was bigger than Robbie!

There is my, "one little duck with the feather on his head". We always joke in the family that Robbie's little blonde hairs look like feathers when they blow in the wind. :)
This is a picture of: Angelic and Robbie, My friend Aimee on the right and her Auntie Mary Catherine in the blue blouse; are sitting on the bench.
Robbie and his friends Angelica and her brother Christian.
Robbie just loves Angelica! An older woman who is four years old. :)
Having fun with Mommy in the tunnel!

A tired, but happy little boy on his swing.

What a great day!!




Friday





Today, which is Friday; Robbie and I met our dear friends Amanda and Paige for a Friday play date and lunch. We went somewhere new and air conditioned!

Jump 'n Jammin is a huge, indoor, interactive playground.



Jum 'N' Jammin has multi-level play structures which consist of tube and web crawls, a barrel roll, giant slides of all types, soft play, climbing structures, bridges and obstacle courses. The kiddos also loved the foam ball blasters, exploding foam ball volcano, vacuums, tip bucket and slides! The Mommy's definitely got a workout!!!!









Our two great friends, Miss Paige and her Mommy Miss Amanda!


Robbie and Mommy having a blast!

Our little jumpers!
Fun, FuN!
The Toddler area!
Robbie loved the big foam blocks!
I'm working really hard to climb this jungle gym, Mama!
After all this climbing, jumping and jamming we had all worked up an appetite!! So we went next door to . . .
The kiddos enjoyed a big bowl of Mac and Cheese together!
I have to say, I was so impressed with our waiter. When we first sat down in the restaurant, he brought us a bread bowl and each of the kids a plate with tiny pieces of cut up bread and bananas! Way to go Cheesecake Factory! Thanks for being so kid friendly!! :) At no extra charge too!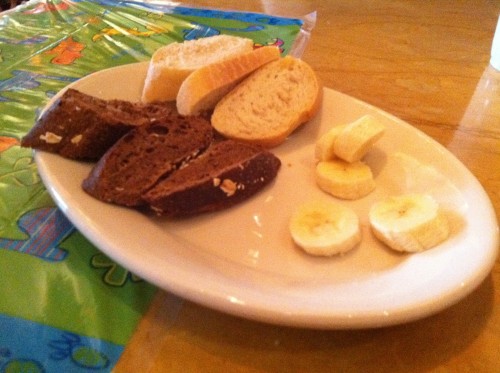 Just enjoying each other's company over good food and great conversation!



Blowing kisses!

Another great day!
You know it was a great day when you come home and this is the result, a little boy all tuckered !
I feel so blessed to have such amazing girlfriends!
Have a wonderful weekend everyone! Tomorrow, Robbie is so looking forward to having frozen yogurt and park playtime with his Grandpa Ken and Grandma Carla! We anticipate a fun afternoon!
Blessings,