Hello Lovelies, happy Wednesday! My little man is happily and quietly sleeping! He is getting back on-track with his normal sleep schedule after a week of almost no-sleep, and heavy duty teething drama! We are visiting GiGi this week, ( my Mom) so, my little one passed out on GiGi's guest bed.
I had a Pepsi about an hour ago and I am a little wired from the caffeine.
I cannot sleep. Well, here I am; writing this blog post at midnight and here are my random thoughts from today:
On Sunday, I watched a really good movie with my parents. I mentioned earlier that the hubs is out of town for work training, so I am enjoying some time with my parents. We rented the move; "Extremely Loud, Incredibly Close." At first, I wasn't sure if this would be the kind of movie that would interest me but because I am a huge Tom Hanks, Sandra Bullock and Jenna Rowlings fan . . . I thought I would give it a try! I don't want to give the movie away, but it is well worth renting! :)
Moving on . . .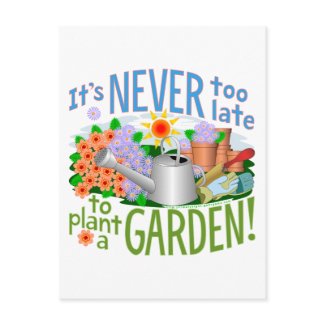 ...Yesterday, I decided that it would be fun to start a vegetable garden with Robbie. When I was a child, I would start one every year with my Mom and it was always so fun to look forward to the fruits of our labor!
I have such fond memories of gardening with my Mother and I wanted Robbie to have the same opportunity; thus began our journey in gardening .
First, I loaded up my little Farmer into the car.


On our way to the nursery to pick out our crops!

Here we are at the nursery,
did I mention that Monkey came with us? :)

We have the Farmer . . .
We have the tools . . . 
We have the perfect spot for our vegetable garden. We weeded and tilled the land with fertilizer. Now, we are ready to plant! 
First, we planted a pumpkin plant. The lady at the nursery told me we needed around 90 days to grow a full pumpkin. I hope we have one in time for Halloween, or at least for Thanksgiving!
Next, we planted our Bell Pepper plant.
Then, we planted our Tomato plant.
And then, the Beets . . .
Finally, we planted our strawberry plant as well as our Cucumber plant. We also planted carrot seeds along the back of this area of the garden .
Oh and do you remember our dear friend Penelope The Pineapple? Well, here she is getting nice and colorful!
I wanted to make sure I zoomed in to show you the adorable little chalkboard signs my Mom made for each of the vegetables/ fruits in our garden!
Our vegetable garden is complete!!
Now. we just have to wait for everything to Grow, GRow, GROW!!!!
Below, are a few fun books that Robbie and I looked at. These books are all about gardening and growing a vegetable garden.
Before I head to bed . . . as it is nearing almost 2:00 a.m. I wanted to share about my evening . I have mentioned in the past that I am in The Junior League of Pasadena. This is my 3rd year as a Junior Leaguer!! Each year, members apply to be on a committee with JLP in which you choose to donate and volunteer with. Last year, I was with the Fundraising Committee. This year, I wanted to be involved with The Early Readers Committee. I was blessed to be given the opportunity to be accepted onto this committee for the 2012-2013 JLP year!!
Tonight was my first meeting with The Early Readers Committee Board. I am beyond EXCITED and really just over the moon to be involved as an active member of this committee!
I will be volunteering my time over the next year working a few hours a month as a Family Literacy Coach. This is through a non-profit organization that prepares families living in isolation and poverty to succeed in school and in life through two-generation learning programs. The Literacy program provides free social services and educational programs to low-income, at-risk families with children ages 0-5. In all programs, parents and children are on-site, engaged in their own comprehensive curricula. Programs successfully increase literacy levels, educational outcomes and the emotional well-being of both generations. This particular program currently serve over 100 parents and 112 children each year.
One Saturday each month from September through July, I will be given a group of twelve students and their ESL speaking parents to work with. During our three hours on that one Saturday a month, I will read a story to the group of children and parents, teaching both the importance of book anatomy, scaffolding and the joy and discovering the joy of reading to a young child. I will then help the parents along as they learn how to engage their young child into the wonderful world of reading.
It felt so great tonight to be back in the classroom, using the skills that I studied so hard to acquire. Tonight, I also learned a few new techniques and ideas of things which I can incorporate into my own parenting. All of this has made me even more excited about homeschooling Robbie!
I know the Lord has put me right where He wants me this year! I look forward to growing as a person, but more importantly helping others.
I also learned about a fabulous children's publishing company called ; Barefoot Books
Here is a brief video on Barefoot Books:
I found the Barefoot Books to be colorful, well written and great for early Todder reading.. Each book has an excellent use of sounds and rhyme scheme!
I had such a great day today, hope you did too!!
Blessings,