If you are one of my regular readers, you can probably tell by now that I LOVE cooking with my Crock-Pot! Today, I am going to share my recipe for Crock-Pot Peach Chicken! I came up with this recipe a few years ago as a newlywed in my first year of marriage. When you try this recipe I guarantee your whole house will smell wonderful! Your family will think you spent all day cooking!

Sarah's Crock-Pot Peach Chicken

Prep Time: 10 Min
Cooking Time: 5 hours

Serves: 2 to 4 ( Depending on how many chicken breasts you use)

Ingredients:
4 Chicken Breasts ( Use a Large Crock-pot if you can or half size the amount of chicken for a small crock-pot)
1 jar of Peach Preserve
1 ( 15 oz can or jar of Peaches ( In the Juice/ syrup)
1 package dry onion soup mix ( I use Mrs. Grass or Lipton)
1 Tablespoon of Brown Sugar
4 Cloves
1 Teaspoon of Cinnamon

Directions:
1. Place chicken in slow cooker and add Jar of peach preserve, canned peaches, dried onion soup mix, cinnamon, brown sugar and 4 cloves.
2. Cook on Low for 6 to 8 hours.

3. Remove chicken and serve over mashed potatoes, rice or stuffing. Be sure to pour peaches and leftover juice from crock-pot over the chicken!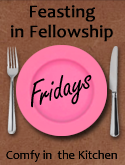 Enjoy!
Blessings,
Sarah