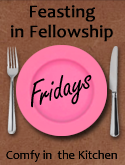 html

Tonight we went to a friends house for dinner, and I tried a fun new recipe and thought I would share it. It's for a Cherry Cobbler.
Ingredients
1. One Graham cracker pre-made pie crust.
2. 1 can cherry pie filling ( or whatever fruit filling you like)
3. 1 cake yellow cake mix ( again you can use any cake mix you like)
4. 1 to 1 1/2 stick of butter
5. 1 cup sugar
Directions
1. place cherry pie filling into Graham cracker pie crust.
2. In a separate bowl mix the entire cake mix with the butter and sugar ( I just use my hands)
Sometimes I add brown sugar as well.
3. Now pour the cake/ butter mixture ontop of the cobbler.
4. Place in a preheated oven at 350 degrees for 30 minutes and enjoy!
This is a quick easy cobbler that tastes great ontop of vanilla ice cream!! :)
If you like this recipe and my Blog please vote for me by just clicking the button below here!! :)