Oh what a week this has been! We are recovering from a looong week filled with the itch-ies! Our week included a 3:00 a.m trip to the Emergency Room and four other doctor visits!
Let me take you back about a week ago, to last Sunday. It started out as a very pleasant Sunday morning. Rich and I decided to brave it and take all three kiddos to the main service with us at church. We had an enjoyable time at church, the babies both took a bottle the moment we walked into the sanctuary and napped the entire service! Robbie was pretty good, he sang along with the worship songs, prayed with us and then spent the rest of the sermon coloring on the floor, (and really only had to be reminded once that he was talking a little too much during the sermon). We even enjoyed coffee and donuts before the service. A few people stopped us to look in at the twins, and I met one woman who is in her eighties and now has a set of fifty three year old boy twins!The sermon at church was one that hit home and that Rich and I found to be so encouraging! After church, we went out to lunch with my parents to one of our favorite Mexican restaurant.
After enjoying our lunch and returning home, I noticed Robbie was starting to develop little red hives on the back of his neck. As the night went on, I noticed the hives, or "itch-ies" (as Robbie calls them) started to get worse and were now all over his body! Yikes, I started to become concerned! We took Robbie to our local Pediatric Urgent Care in the late afternoon on Sunday. After checking Robbie over, the doctor made the decision that Robbie might be suffering from some kind of allergic reaction to the Amoxicillin he had been taking to fight off an ear infection that he was just getting over. The doctor gave Robbie a dose of Benadryl and sent us on our way.
We went home and settled in for bed. At 2:00 a.m on what was now very early Monday morning, I was awakened by my sweet little Robbie crying and complain about all of the itch-ies on his body. I turned the light on to check and Robbie was full of hives on his entire body, his ears were bright red and inflamed to twice their normal size. His eyes were almost swollen!
We didn't waste anytime at all, I called my parents who thank God came to the rescue at the wee hours of the morning to watch the twins while Rich and I took Robbie to the ER. I am so thankful for my parents, they are the best! Such caring, kind, helpful and wonderful grandparents always there for us whenever we need them at a moments notice. Thank you Gigi and Grandpa Ray for being so self sacrificing of your time and life for us. Thank you for making us your top priority always! We couldn't ask for more! :)
Below are some photos of my little sweet pea in bed at the ER. You can see how puffy his face was.. but, these photos were taken after a round of the steroids and don't really show how red and puffy he really was.
He loved moving the hospital bed up and down !
When we arrived at the ER Robbie had a slight temperature and was completely red all over scratching his face, arms, legs, tummy and head as hard as he could. Once the nurses got Robbie all settled into a bed, the doctor came in shortly. The doctor told us the same thing as far as this all being a possible allergic reaction to the medication or a left over response to the ear infection/ cold Robbie had had about a week or so prior. They gave Robbie a steroid and a double dose of Benadryl and things started to look up! We tiredly drove home at 5:00 a.m just in time to be greeted by the alarm clock at 5:30 a.m. Rich left for school and my Dad left for work. The next day was both physically and mentally exhausting! Robbie seemed to be getting better throughout the day! My Mom had me over with the three kiddos and watched and played with them so I could catch up on sleep. Robbie was having such a good time with Gigi, that he asked me if he could stay the night with her! I told him sure and I took the twins and headed home. Gigi called us at 4:00 in the morning that night/ early morning and told me that Robbie had been up itching for hours and that his hives looked much worse! I drove over to pick him up and waited until his doctor's office opened and once again headed in with a very itchy little boy! This time I was really scared at how red, itchy, and swollen Robbie had become! We were given more steroids and sent on our way and told to come back for a recheck on Thursday.
Well Thursday came and thanks to all of your prayers family and friends, Robbie has been hive free since Thursday morning! He is off of the steroids and Benadryl , ( which I might add made him super loopy). He is on Claritin for the month and we are watching him closely! We have decided that he is probable allergic to Penicillin, just like his Grandpa Ray and we will stay away from anything in the cillin family all together! When my Dad was three he was hospitalized for a very bad reaction to penicillin and almost died!
Our bedroom has been filled with babies this past week... and I will admit I kinda love it that way! So cozy and warm! The doctors told me to keep Robbie close by me throughout he night so I could monitor his breathing. We took his toddler bed mattress and put it on the floor next to our bed, which happens to be next to the pack and play that Jacob has been sleeping in which is next to the crib that Joey is currently sleeping in! ha ha Robbie looks spacey in this photo, I'm not gonna lie, it might be the Benadryl, or that he was watching a cartoon on the tv behind me.
Joey, sound asleep.
Jacob below.
Through all the scary moment of this past week, uncertainty and fear, one thing was comforting and true.... Jesus is the ultimate Physician and we thank Him for healing our little Robbie. My mom and I laid hands on Robbie and anointed him with oil this week. I was able to put my worried heart at ease because I gave my fears to the Lord.
On a happier note, I had this idea a few Years ago to make a quilt for every season and display in my living room according to the seasons. I started making the squares for this Fall quilt and have never put them together! Hmm, maybe I need to dust off my sewing machine and get to work! :)
Not the best picture, but you get the idea. :)
Let's see, what else is new? Jacob has been holding his own bottle and quite well I might add! Joey has just started holding his bottle last week and both boys are just precious!
My boys enjoyed a visit from Miss Aimee, Meemaw Liz and Miss Judy this past week! We love you three ladies and we are so thankful and blessed to have you in our life! Meemaw Liz and Auntie Judy, thank you for being honorary Grandmas to my three little men! Miss Aimee, than you for loving on my boys! You always share something fun and new with them, you give us your sweet little boys clothes and you are so much fun! I am so impressed that you rocked little Joey to sleep the other night! You win the sleepy baby award! A task that is not always easy with that one! :)
Above is a photo of Auntie Judy and Auntie Summer from my first week home with the babies!
We had are first official Fall feeling day yesterday! It could not have been a more perfect day in my opinion! It was crisp and sunny, yet there were patchy rain clouds along with puffy white clouds. There was a cool breeze to the air. It was definitely a day for a light sweater. It made me want to run outside and crunch leaves and then come back in and watch college football.... and that is just what we did! We loaded all the little ones in the car and grabbed a picnic lunch at one of my favorite markets of all time, Bristol Farms.
Then we headed over to one of our favorite parks in town for a picnic a game or two of tag and to enjoy the beautiful crisp fall day!
After our picnic, the kiddos fell asleep in the car on the way home. Rich and I decided to take advantage of having three sleeping babies in the car and went for a little drive around Pasadena, South Pasadena and San Marino. We love to drive around and look at all the beautiful homes.
We like on street in particular called Milan in South Pasadena. Rich and I have a secret little dream that if we ever make it big, we would love to buy one of these homes!
So many movies were filmed at the homes in this area.
Like the house house from Father of The Bride.
The house from Beethoven and Beethoven 2nd
The house from Four Christmases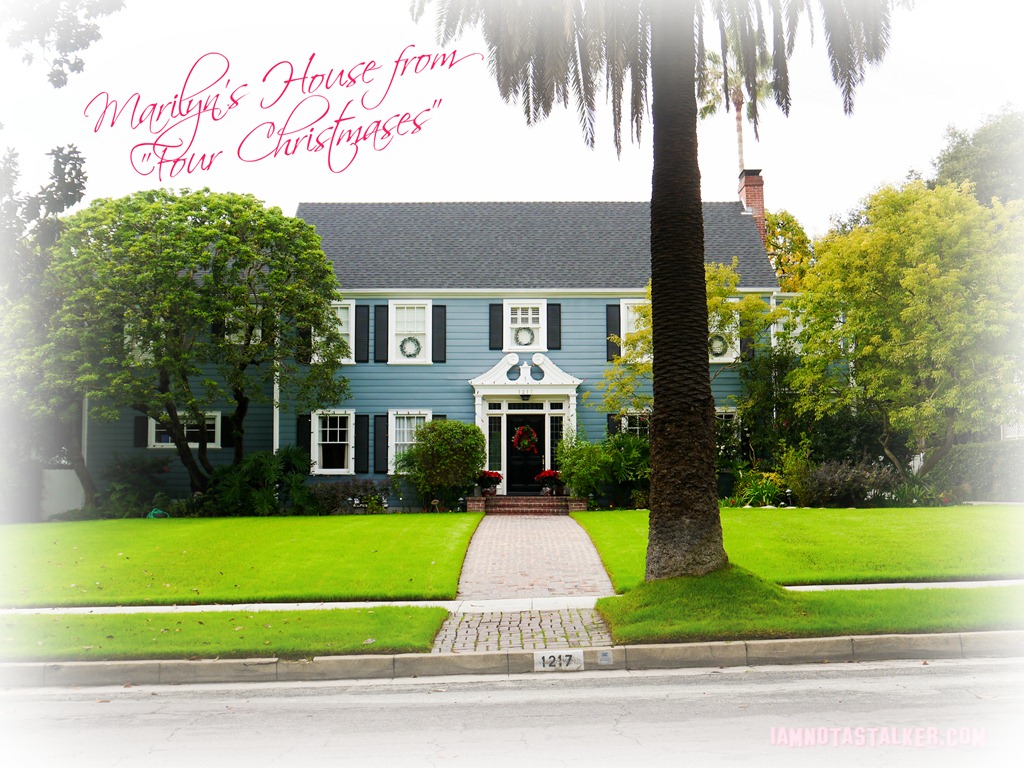 and the house from the 1976 show Family
These homes are located on such a beautiful street. So if I ever win the lottery, you know where to find me! ;)
I know I already shared my Fall décor, but I added lights to my mantel and a pumpkin to my hearth!
Also, I have added a basket full of all of the children's books that we have about Fall, Halloween and Thanksgiving. To keep little hands and minds busy while adults are visiting.
I am a little obsessed with my new appliance purchase!
I bought a Cuisinart Immersion Blender to make baby food.
Last night I put my blender to good use and made Roasted Red Pepper and Butternut Squash soup from scratch! It was super yummy, if I do say so myself and it really brought the flavors and smells of Fall into our home. With Fall here I have so many new soup recipes I want to try.
I also feel like I must make pumpkin bread at some point this week!! :)


Have a wonderful Sunday!
Blessings,