Can you believe it is already February 7th?!!!! I looked at my calendar this morning and to my surprise, Valentines Day is just a week away!
I thought it might be fun to share a few Valentine ideas with you all over the next week.


This afternoon, my mom and I saw a beautiful Valentine wreath at a very expensive Boutique. She wanted it so badly. We decided to try and make one. We bought $7.00 worth of red roses at the Dollar Tree store. They are very nice quality artificial roses. We cut the tops off of the stems and hot - glued the roses to cardboard which we cut out in heart shapes. The bag of glue we bought for the glue gun was $6.00; a bit pricey, but there is enough to do many more projects. We had the ribbon to hang the front door wreath, left over from Christmas! The wreath we saw in the store was $39.99 for one wreath. We made two of them for a total of $13.00. Both wreaths took twenty minutes to make, and we like them very much.
Happy crafting, should you decide to make one!

Gluing on the roses . . .
Toddler Valentines Day Books
I wanted to share some of my favorite Valentines Day books for the kiddos!
Each night before bed, Robbie chooses four books for me to read to him. I must admit, I find his toddler bed comfortable, ( oh did I tell you that Robbie has graduated to a "Big Boy" bed now? A story for another time, but I am still so proud of him!) Back to my story, I adore the 20 minutes or so of pure bliss, love and cuddle time with my dear little man! "Good night Moon" and "Peek- A-Who ? " have been among Robert's favorite books for the past few months. These Valentines day books have been a most welcomed addition to our bedtime routine! Hope you enjoy them as well!
This last one isn't a book, just thought it was cute!
Oh . .. one more thing before I sign-off for the evening . . .
I am so excited to read this book! I have been hearing about it from some of my Mommy Blogger friends and tomorrow is the release date for "Sparkly Green Earrings"!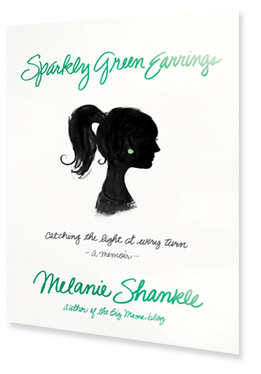 Here is a brief synopsis on the book:
"There is really no better indicator you're a mother than acquiring the ability to catch throw-up in a plastic bag, disinfect your hands, and immediately ask your friend to pass the beef jerky as you put on another Taylor Swift song and act as if nothing has happened."
This is the type of insight Melanie Shankle offers in this quirky memoir of motherhood.
Written in the familiar, stream-of-consciousness style of her blog, Big Mama,
Sparkly Green Earrings
is a heartwarming and hilarious look at motherhood from someone who is still trying to figure it all out. Filled with personal stories—from the decision to become a mother to the heartbreak of miscarriage and ultimately, to the joy of raising a baby and living to tell about it—
Sparkly Green Earrings
will make you feel like you're sitting across the table from your best friend. A must-read for anyone who's ever had a child or even thought about it.
.
Hope you will order your copy today and join me this month in reading this funny, heartwarming story of a Mother's love!
Blessings,